Hello from Wisconsin
I own a Yard Machines Riding Mower 13AN772G729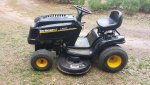 I need to replace my battery.
I went to the MTD parts site and this is the battery that is suggested for my rider
MTD suggested battery
I would prefer to find and buy a new battery locally if I could.
I was a a Tractor Supply store yesterday as well as a Walmart and an ACE hardware but none of those place have a replacement for this particular battery
I see that some of the batteries at the above locations have "U" designations on them. IE: U1, U2. that sort of thing.
My current battery doesn't have anything like that on it and the above link doesn't indicate any information like that either.
Would anyone be able to suggest a replacement battery that might work ?
Thanks for any suggestions