Wanted a new general thread on my project so here it is.
I never did any work like this and learned from youtube vids.
I bought myself a Wolf Garten Cart with 6HP pull start tecumseh and a mulching deck.
What i already have done:
- Swap the engine for a 16hp v-twin vanguard and put on 2 8hp mufflers. I LOVE the sound.
- Fully custom electrics from scratch, choke cable and hand throttle.
- Small honda gx clone gastank mounted on the rear.
- New pulleys for faster speed. I went from 4" on the peerless and 2" on the engine to the other way round.
- Fit a cheap bucket racing seat for comfort. The original seat wat a piece of cloth stretched over a bent pipe.
What really needs to be done:
- Fix sloppy steering (pillow block bearings, no more metal to metal grinding)
- Big service on the engine, ordered new magnetos, filters, etc ...
Additional mods:
- Bigger wheels, the original ones are the size of hand cart wheels.
- Custom grass/leaf catcher.
More to come:
...
Pic like i bought it: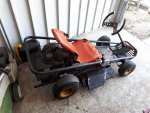 Pic like it is today: