Hey All,
I have a
Ryobi RY253SS 2017 model with a walbro carb. I have been storing it upright, tank on the floor and head in the air. the last few times i used it the tank was empty and I had to fill it before using it. I thought that was odd and after the 3rd time it did this i noticed the floor near it was stained. Looks like the tank leaks out when stored like that. i tried starting it and it will idle regardless of choke level but will not rev up. it bogs and dies instantly with any throttle. I took the air filter off and it was half covered in 2 cycle oil from the tank overflowing.
I cleaned the air filter and set it to dry. I tried starting it without the air cleaner just to see and it still did not run correctly. i added fuel to the cylinder, a bit too much at first and fouled the plug. with a new plug and only a bit of fuel in the cylinder it runs ok but still at full throttle when cold or hot it just will not hold revs. I get about 5 seconds of full revs before it starts to die. This is still with the air cleaner so it could be running really lean due to that.
I think there are a few more things to check
1. exhaust spark arrestor may also be gummed up with oil or dirt, i cant clearly see how to get to this, the 2 plastic cover pieces come off right over the exhaust, seems i may have to take the front and back which would mean dealing with the pull start and the trigger which i would like to avoid.
2. gummed up carb potentially? any advice?
Any advice, other things to check, or insight on how to remove the spark arrestor mesh would be helpful
Thanks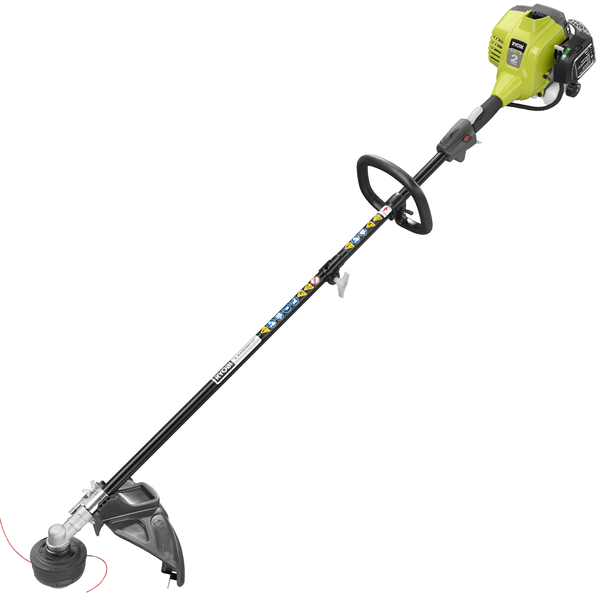 2 Cycle Full Crank Attachment Capable Straight Shaft String Trimmer
www.ryobitools.com