Joined

Sep 6, 2020
Threads

1
Messages

2
Hello to one and all, I am a Sound Recordist to trade (was working in film and TV until Covid) but I also run a modest little garden service on the side. It's thanks to this site that I was successful in repairing a leaking seal on the transmission of my 2016 Honda HRX 537 HYEA, so thanks to those who commented on a post related to this, between you guys and You tube I've learned lots more about my kit.
Incidently I have two HRX 537's, one 2014, one 2016 as well as a Toro DH220. I try where possible care for my own kit myself so no doubt be tapping you fine people up from time to time with questions. This summer I've had to re-seal the aforementioned tansmission, learned how to better sharpen my blades and now do routinely on a 2nd hand bench grinder (as well as balance them as perfect as I can with a nail in a vice) replaced both front bearings on the DH220 as well as replace the V-belt on the DH220. I treat it all as seriouse kit given their value and hopefully be keeping many lawns trim and tidy for years to come!
Also have a
Stihl FS135,
FS50,
SH55,
HS82-RC (30")
HS82-T (26")
and a (refurbished this season) Charterhouse FXD 151 Scarifier.
I have to travel my DH220 to a few customers gardens, so I've taken to popping an R-pin in the height adjuster handle to stop it bouncing around as had to replace that last year, anyone else got a 'travel safe' solution for their ride-on mower? (previous handle became damaged bouncing up and down on our rough roads..)
Kenny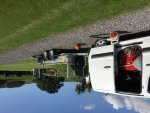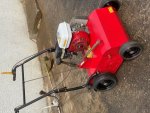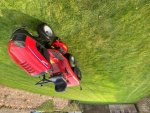 Last edited: