Gentlemen, I just got around to completing this project. My original intent was to simply raise the air filter up a foot, it ended up moving up 21". I'll attach 4 photo's to show the progress.
Photo 1 shows the basic structure/frame with the air tube (2" radiator hose) and mounting plate made from a plastic electrical cover. Photo 2 shows the base plate. Photo 3 shows the air filter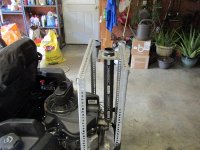 box. Photo 4 shows the filter arrangement and box lid. Looking at the rear of the machine, the air box is open on left hand side(as far away from the discharge as possible). The lid simply folds flat on top of the filters. The outer filter is a WIXs 42088.
Please review and send any questions, Cheers, Ray