Joined

Jun 21, 2020
Threads

2
Messages

6
Firstly thank you to Hammer for his initial reply to my original question. I'll post his reply as a follow up. My issue is my L110 seems slightly different to the manual pictures Hammer sent through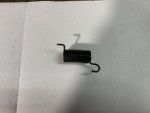 picture of the spring I can't work out where it goes. Hooked at one end.... straight on the other end.
Hammer sent through a pic from the JD manual (attached) but my L110 seems a bit different in design.
ive attached a photo of my model and where I think the spring goes, as well as a pic of the brske
I also posted the below as further followup
As a follow up to this can anyone take a photo of how it looks mounted please. The spring I have is hooked at one end only and it doesn't look 100% where I think it goes. Plus the lever that is used to lock the brake in place (orange) simply seems to release under gravity when the brake is pushed forward..... should this release be spring loaded and positively un click when the brake is pushed to realise it?. I've attached a photo of the orange release and a pic of where I think the spring goes.....
All help is much appreciated
David